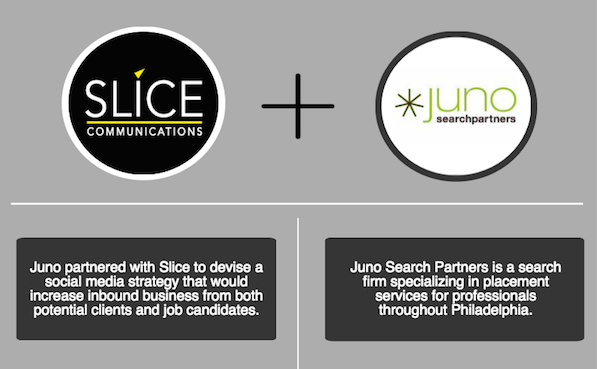 Client Background
Juno Search Partners is a Strategic Search firm specializing in placement services for Human Resources, Administrative Support, Accounting and Finance, and Information Technology professionals throughout the Philadelphia Metro Region. In both 2014 and 2015, Juno made the top 15 of the Philadelphia 100, maintaining its position as one of the fastest growing businesses in Philadelphia.
Prior to working with Slice, Juno had maintained active social media profiles on LinkedIn, Facebook, and Twitter, and had a website that was optimized for collecting client contacts and job seeker resumes. However, they had not yet used paid social media advertising to generate referrals.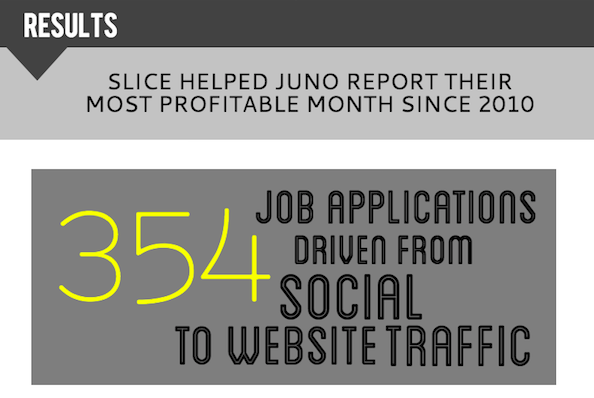 Beginning in November 2015, Juno contracted Slice to devise a social media strategy that would increase inbound business from both potential clients as well as from candidates, especially within the IT field.
From November 2015 – March 2016, Slice implemented a program of targeted social media ads with the following results:

Increased monthly lead gen capture to website:
Increased page views of clients pages from social media by 211% (from 36 in November 2015 to 112 in March 2016)
Increased monthly page views of careers pages from social media by 443% (from 249 in November 2015 to 1351 in March 2016)
Increased monthly traffic from social media to website:
892% increase, from 205 sessions in Nov 2015 to 2,034 sessions in March 2016
Drove Job Applications from Facebook:
354 job applications recorded in the months of February and March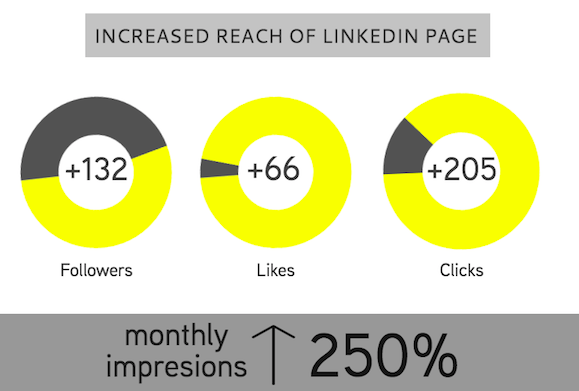 Increase Reach of LinkedIn Company Page:
Increased followers by 132 (From 768 to 900, +17%)

Increased monthly impressions by 250%

Increased monthly clicks on page updates  from 35 to 240

Increased monthly likes on page updates from 3 to 69
In February 2016, Juno reported their most profitable month since their foundation in 2010.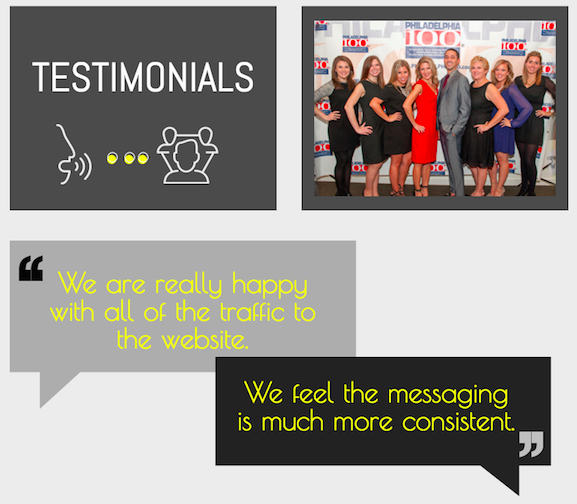 Approach – From First Cut to Implementation:
During Slice's First Cut Session, we asked the client to describe their ideal client and candidate personas. This approach allows us to identify precisely to whom we should direct social media ads.
Some of the client audiences Juno identified are as follows:
Some of the candidate audiences Juno identified are:
Executive Assistants

HR Generalists

Developers and Software Engineers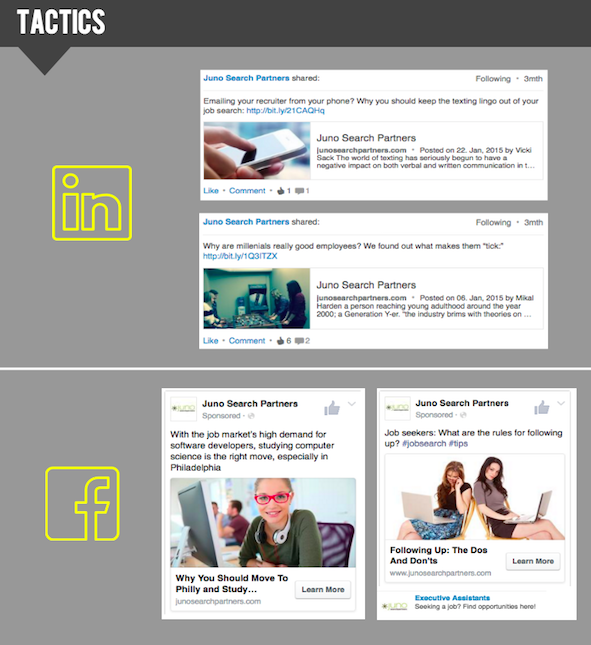 Both sponsored content and lead generation ads require having precise targeting. During Slice's First Cut Session, Slice helped Juno to define some of its clients pain points.
Slice's social media strategy included:
Paid website click/lead generation ads to target potential job candidates on Facebook

Paid website click ads to target potential job candidates on LinkedIn

Promoted content (blog posts), directed at job seekers on Facebook

Promoted content (blog posts), directed at clients and job seekers on LinkedIn
Need help with Social Media or Public Relations? Get in touch with us today!