By: Cass Bailey
For those of us in public relations and social media world, there have been many questions popping up in the past five years that we're never asked before: Should we be on Facebook? What is content marketing? Do press releases matter anymore? But perhaps the most fret-worthy of all is: What is the marketing ROI? John Wanamaker, famous Philadelphian and retail giant once said, "Half the money I spend on advertising is wasted; the trouble is I don't know which half." It's highly unlikely that any CEO would say the same today.
The challenge is an important one. Like any other business unit, communications must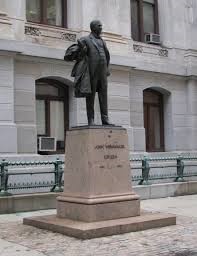 show a demonstrable impact on business for spend. Yes, there is still some art in measuring the value of brand awareness. But we must also embrace the science.
One of the basic skills anyone in PR or SM must have is the ability to read Google Analytics. Reading doesn't mean setting up, configuring, or manipulating. It just means looking at what's there and understanding the vocabulary enough to make sense of it. It also means comprehending what is on the screen in order to develop and evaluate strategy. It's a skill that depends on practice, so there must be a commitment to making it part of our everyday or every week work.
Going a step further, we must be able to use it to our advantage. It is not a perfect tool and too often PR or SM professionals are stuck having to argue against it because it does not record every visit accurately. We may know from Facebook that a sponsored post delivered 20 clicks but they don't show up in Analytics. Or we may have placed an infographic with a major media outlet – with a link back – but somehow only a few visits are clearly from it.
The good news is that there's something we can do: we must become well-versed in the language of link tagging.
Link tagging simply means adding words to a website link that tell Google Analytics how to code visits from the link. You've likely seen them and clicked them. Here's a link with tags from Business Insider: http://www.businessinsider.com/online-luxury-sales-are-growing-twice-as-fast-as-the-overall-market-2014-4?nr_email_referer=1&utm_source=Triggermail&utm_medium=email&utm_content=emailshare
See where it says source=Triggermail? That's probably the email system Business Insider used to send the email blast by which the story was delivered. When we click the link, we end up at the story just like anyone else. But the tags on this specific link tell Google Analytics that this visit to the website was generated by email. And in the Source section of Analytics, this visit will be counted in the Triggermail bucket. Since Business Insider sells advertising and gets paid by impressions, it likely knows the value of a visit. So the company can calculate how many visits were generated by Triggermail and demonstrate the ROI of the tool and the people who manage it. It can also see what the visit generates in terms of how much time on site, how many pages visited, and if this were an ecommerce site, if a purchase is made.
The possibilities don't end with Source. There are other tags that can be added to a link so there is less guessing and more proving.
Think about this in the context of PR and SM. If these tags are used, at least part of the value of PR and SM can be evaluated in terms of website traffic and digital interactions. But delivering on this opportunity requires sophistication and discipline, two skills necessary to compete in today's digital market.
Need help getting started?  Here's a useful online tool you can use: http://gaconfig.com/google-analytics-url-builder/.
Afraid you might overdo it?  Check out this blog from our friend Annie Cushing.