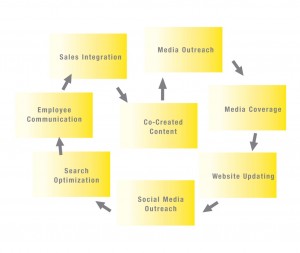 At Slice Communications, we believe that the companies that will be the most successful will be those that create opportunities for participation with their clients, partners, and markets.  We know that when those opportunities are integrated within a company's marketing efforts, they will be the most powerful.  That's why we deliver Integrated Participation. Creating action – whether it be an inbound call, sharing an article, or submitting a resume – is the ultimate benefit of our approach.
Co-created content sits at the center of everything we do.  We develop creative, insightful, and relevant information that we help our clients to distribute to their markets in a variety of ways.  This helps keep them top of mind with their targeted audiences, which ultimately leads to growth.
 Public Relations
Our public relations experience means that content we create is not only meaningful and useful for our clients and their audiences, but it is also interesting for reporters.  We work with targeted reporters to develop articles that are useful to their readers and position our clients as resources and leaders.
The Slice Communications approach to Public Relations is simple but different. Precisely, it's all about being different.
Reporters today are hounded by hundreds of PR people with the same message – better company, better product, better people. But reporters, with less time and resources than ever before, can't quantify "better" for their readers. What they can cover – in a definitive and concrete way – is different.
Our approach is based on more than 15 years of experience creating messages that stick – both memorable and compelling – for reporters and their readers, your key audiences.
Step 1 – First Cut Session: a fully facilitated brain dump for key executives that gives Slice Communications what they need to get started with positioning, messages and news hooks.
Step 2 – Strategy Development: a document that outlines the company's positioning for the media, point-of-view, messages, and possible news opportunities.
Step 3 – Media List Development: Slice Communications identifies key reporter and blogger targets for media outreach.
Step 4 – Media Training: an interactive, 2-3 hour session with key spokespeople that teaches them to speak with reporters.
Step 5 – Media Outreach: Slice Communications turns all the hard work into media coverage.
We have secured media placements with The New York Times, USA Today, LA Times, Associated Press, Philadelphia Inquirer, Philadelphia Business Journal, CBS Early Show, ABC, and others.
 Social Media
Social media is constantly changing.  New tools are constantly emerging, merging, and being upgraded to help people connect faster, easier, and more authentically.  At Slice Communications, our secret nerd status means that we love and understand all these new tools – which ones are useful and which ones are a waste of time.  We put all this knowledge to work for our clients in developing their social media strategies to meet their business goals.
At Slice Communications, we believe in 3 Golden Rules of social media, which help us create strategies that have an impact on our clients' bottom lines:
Be authentic and transparent.
Give more than you get.
Create action.
More important than knowing for ourselves is being able to teach our clients how to use these tools to sustain their role in the conversation and maximize their ROI.  Slice Communications will works hand-in-hand with our clients to ensure that there is constant transfer of knowledge related to social media.