More than a third of the world's CMOs affirm that digital marketing will account for 75% or more of their spending within the next five years, according to AdWeek. However, CMOs are still consistently faced with the onerous challenge of proving to CEOs that their company should be investing in social media. Why is there such a disconnect between CMOs and CEOs?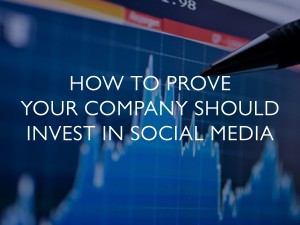 Despite the growing rates of digital integration within marketing strategies, 61% of CEOs do not have a social media presence, therefore making it an esoteric medium that they'd much rather cast aside than spend time and money on to fully understand. While social media is new to the landscape of marketing, CMOs should no longer have to plead with the rest of the c-suite for approval in the budget.
Here are some reasons why:
1. Digital Marketing is Here to Stay.
The digital age has altered marketing budgets as more companies are increasingly investment in digital marketing. According to a Forrester Research Digital Marketing Forecast, the average firm will allocate 30% of its marketing budget to digital marketing in 2016.
As you see below, social media spend will experience the most significant compounded annual growth rate at 18%; however, the projected increase is not a coincidence. Additional data shows that 65% of Americans are now actively using social networks, and usage among users 65 and older has increased to 35%, closing the generation gap. The rise in users continues to be a positive sign for companies looking to market through social media. Active users share content and engage with posts, which ultimately leads to greater reach and increased impressions for a company's messaging.

2. Social Media Advertising is Strategic and Cheaper than Traditional Advertising
As digital advertising grows, more companies are moving toward social media advertising because of its targeting features and pay-per-click costs. Social platforms such as LinkedIn, Twitter, and Facebook are equipped with ad targeting features that place ads directly in front of your targeted audience. The targeting features are able to filter users based on their geographic location, personal and  behavior information, interests and keywords. For example, if you're a product development firm, you can make sure that you're delivering your ads in front of CTOs and product managers. This is allows for a much more precise way to target your audience compared to traditional print advertising.
Furthermore, social media ads run on a pay-per-click basis which means no clicks, no charge. By launching multiple ads with different targeted categories, you will be able to determine what ads increase your social following and eliminate the ones that underperform. Finding a happy medium between your targeted search and pay-per-click will prove to be the method for optimizing your resources.

3. You can measure the ROI
It's important to explain to your CEO that the perception that it is impossible to measure the ROI of social media is misleading. More companies are measuring ROI by using conversion goals on Google Analytics. These goals should be important to your company and determine the success of your social media efforts.
Some common online conversion goals for example are online purchases, contact form submissions, newsletter signups and downloads. By connecting specific URLs that trigger a conversion to Google Analytics, you are able to track and determine when your leads become a conversion. This is effective in determining what posted content has generating the most traffic to your site and what channels are performing the best.
The list of reasons why your CEO should invest in social media is endless. Although these are just a few, hopefully they will help prove to your CEO the potential impact of the investment.