Social media marketing has come a long way in the food industry. In the past, social media marketing was seen mainly as a B2C tactic, as social media was used primarily for personal use. B2C brands were using–and still continue to use–social media to target potential customers. These B2C marketers have seen great success, but many B2B brands wrote off social media as irrelevant.
But social media also offers many opportunities for B2B food companies to establish brand awareness and credibility. It allows a brand to shine through thought-leadership.
And even though social media offers so many benefits, B2B food brands are still lagging behind.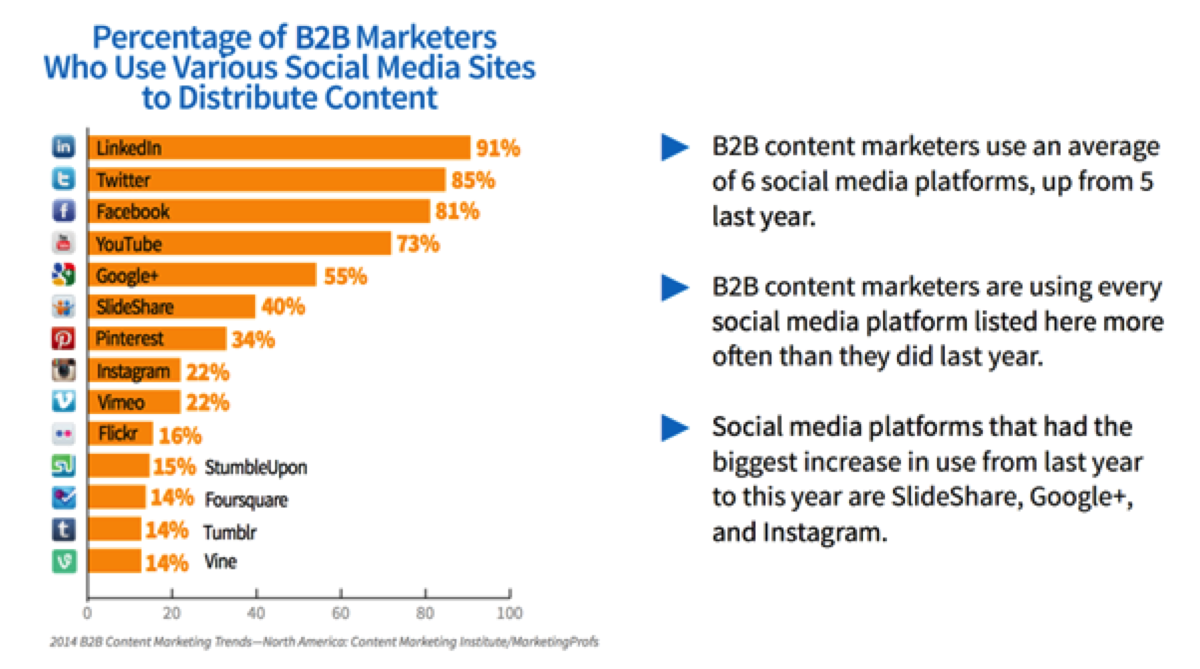 LinkedIn has been popular for B2B food marketing for some time. But many brands have been hesitant to dive into other platforms for fear of not reaching the right audience. According to the Content Marketing Institute, 91% of B2B companies use LinkedIn, but only 81% use Facebook. A mere 22% use Instagram.
But a study conducted by Media Think reports that B2B decision makers in the food industry are heavily influenced by social media. Seventy-four percent of food industry professionals use LinkedIn when making a purchase decision and 42% use Twitter. Eighty-one percent use blogs to assist with their purchasing decisions as well.
Now, many B2B marketers have begun leveraging Facebook, Twitter, and Instagram to reach other food professionals and industry prospects.  Because social media is ongoing, it's become an excellent way for brands to engage with their target audience and extend visibility. B2B food brands can also use social listening tools to keep up with industry trends and discover what other food industry professionals are searching for.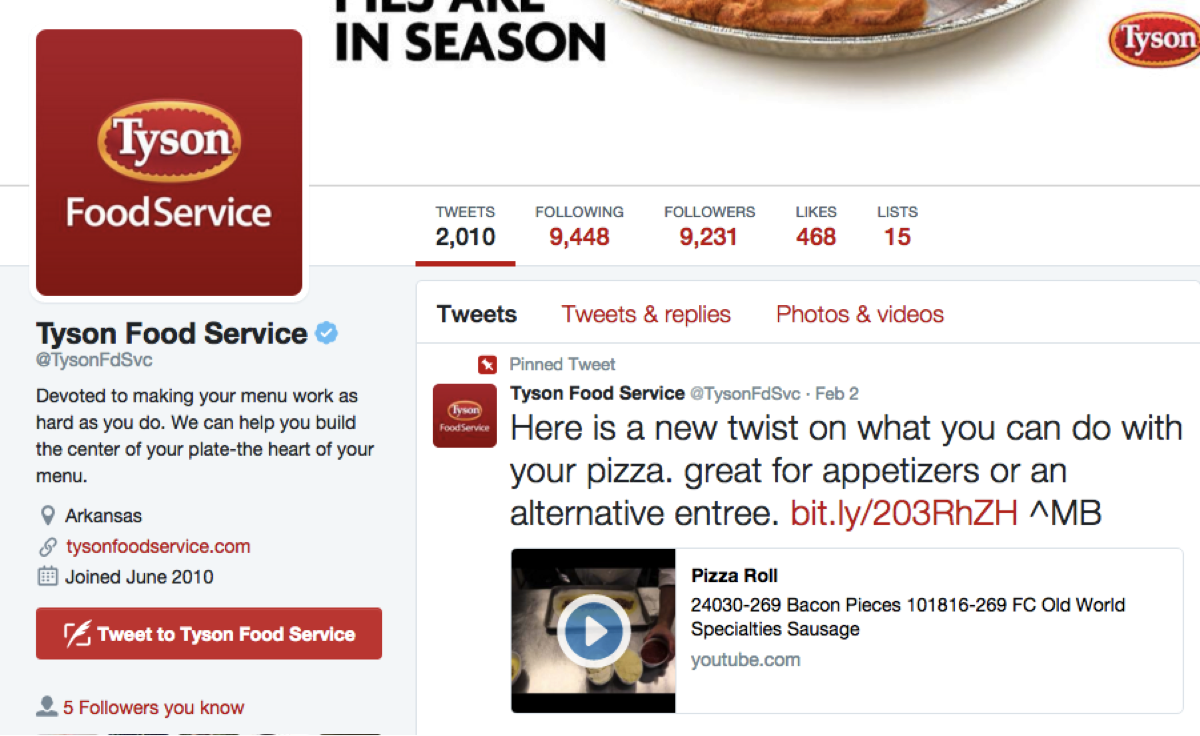 One food brand making a splash in B2B social marketing is Tyson Food Service. Tyson shares relevant information on their website and blog (trends, chef spotlights, menu inspiration, etc.), as well as social channels such as LinkedIn, Twitter, and Youtube.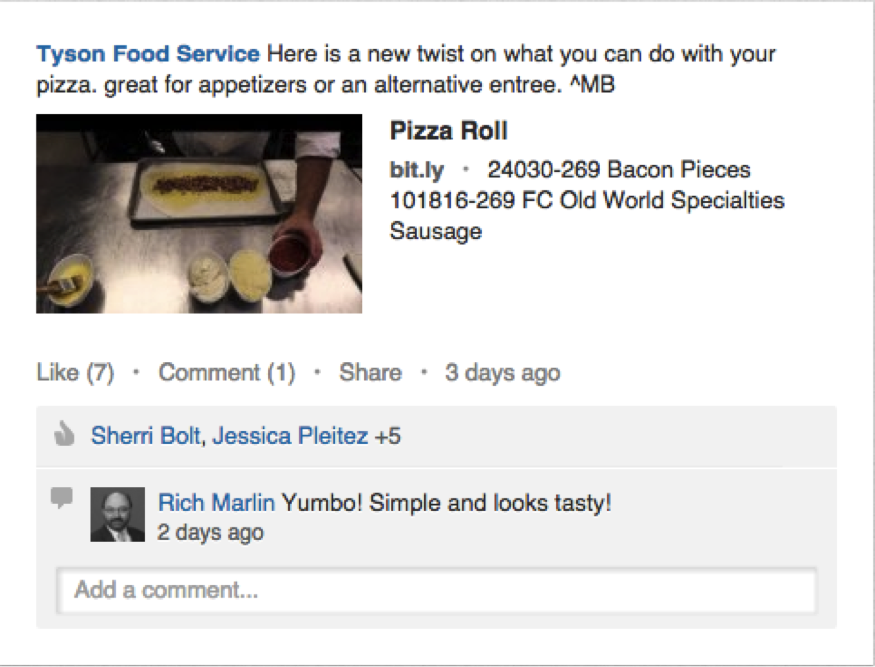 Chobani is another company that uses social media for effective B2B marketing. On Instagram, they show product versatility, behind-the-scenes company happenings, and other posts that depict the healthy lifestyle that the brand is associated with. They've mastered the art of brand humanization. They tell a story that supports the brand's key messages and give us a look inside their company.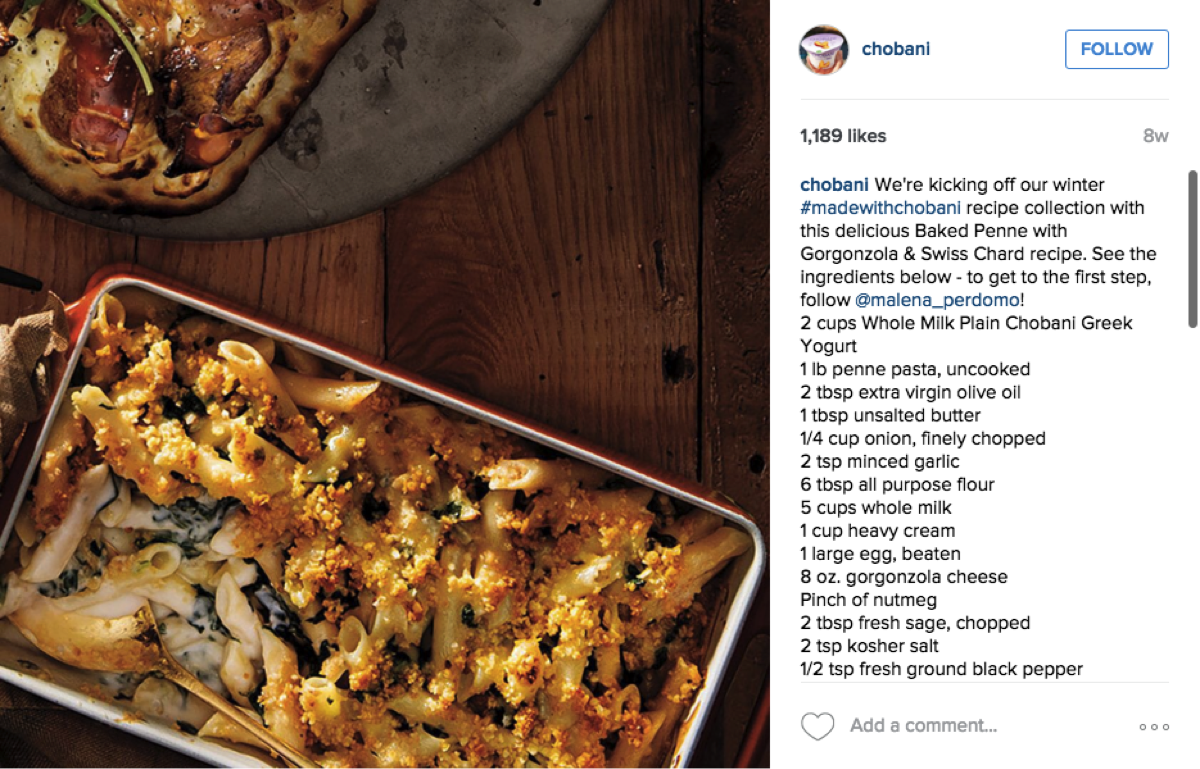 While Instagram may not seem like a relevant platform for B2B food brands, marketers have started using it to establish deeper, more meaningful connections with people—including industry thought-leaders, employers, and prospective clients—rather to sell products. Instagram provides the opportunity to grab the attention of industry professionals while they're not actually in work mode. It's the perfect channel to seamlessly integrate your brand values and messaging without "selling" to your audience.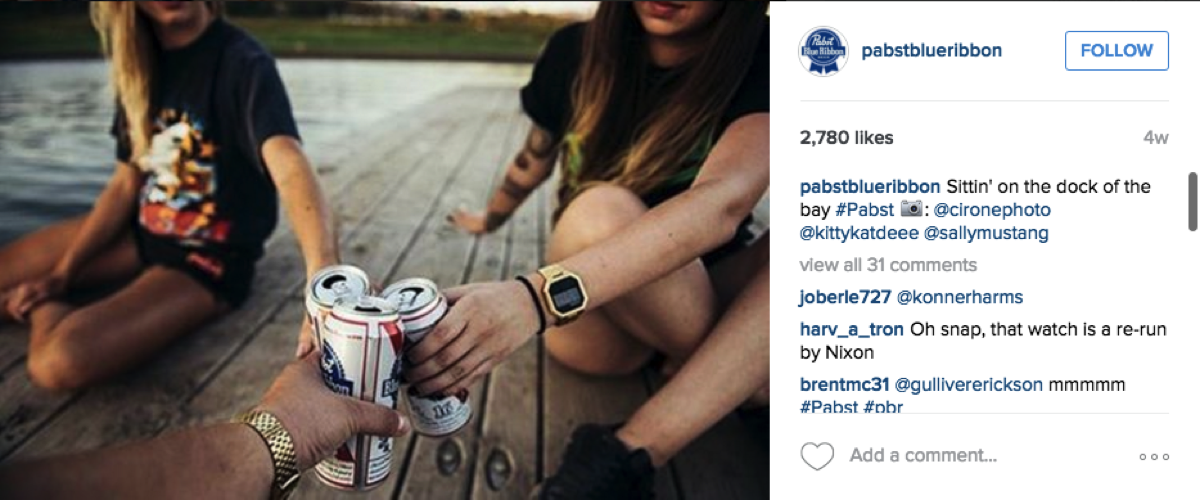 According to a study conducted by Forrester, Instagram's per-follower engagement rate (4.21%) for top brands is 58 times higher than Facebook and 128 times higher than Twitter. And because food has become one of, if not the most, popular subjects on Instagram, it's a no brainer for B2B food brands.
There are a myriad of reasons why a B2B food brand should be using social media—brand awareness, establishing credibility, and creating brand relevance are only the tip of the iceberg. Because individuals in the food industry use social channels to help guide them with purchasing decisions, B2B food brands have the unique opportunity to use it to keep their brand and messaging top-of-mind.